Welcome to Threadlove!
My name is Bonnie and I have been designing for embroidery for 15 years.
On this website you'll find a wide variety of designs for your sewing pleasure!
I'm adding instant download so you can start your project right away! Each page with instant download available is clearly marked. All designs on the unmarked pages are emailed within 24 hours.
All the new designs have special introductory prices. Visit often so you don't miss out!
Catalog Of Embroidery Designs
Designs for Dog Lovers
Assorted Singles

Starry Starry Night
Starry Night 2
Florals
Free Standing
Charms Lips
Thread Snips Ornament
Bear & Heart
Gift-EZ
Heart Lollipop Covers
Lace Embroidery Designs
Free Standing Hearts
Angel Embroidery Patterns
Under The Sea
Cardinals
Monogram Spiral Font

Spiral Star
Spirals
Tropical Birds
Dream Maker
Color Line Birds
Pencil Toppers
Pencil Bookmark
Free Standing
Floral Lace Border
Vintage Frame
Monogram Embroidery
Magnificent Monograms
Machine Embroidery Dogs
Assorted Singles
Cows
Redwork Wine
Carnations
Meet The Dog
Watermelon
FSL Charms
Summer Wardrobe
Ribbon Collection
Kitchen Embroidery
Lace Embroidery
Full Blossom
Baby Embroidery Patterns
Rainbow Bridge
Fantasy Mermaid

Redwork Ballet
Machine Embroidery Design
Floral Rhapsody
Redwork Puppies
Angel Embroidery Patterns
Embroidery Pattern
TGIF
Magic Wand
Monogram

Machine Embroidery Patterns
Animal Finger Puppets
Baby Bib Design Embroidery
Embroidery Machine Patterns
The Apples Of My Eye




ITH Darcy Doll
ITH Carlos Z Cat
More Singles
Butterfly Corner
Free Standing
Lace Lapels
Sweet Floral Border
Floral Fantasy
Coffee Break
Wizardry
Halloween Embroidery Designs
9-11 Angel
Doctor's Orders
Decorative Christmas Trees
Hope, Love & Peace Christmas Trees
Snowflake Ornament
Royal Jubilation
Holiday Embroidery Designs
FSL Ornaments
Snow Fairies
Gift-EZs
Christmas Embroidery Designs - Christmas Finger Puppets
Basket Gift-EZ
Easter Charms
5 Charms in All
Easter Gift-EZs
Also consider joining the Threadlove Notification List for exclusive free embroidery designs like the one below. Updates are just a few times a week. Set your preferences for individual email or digest so that you don't miss limited time free embroidery designs.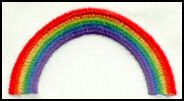 Digitizing for embroidery is both a skill and an artform. I have spent many years learning and perfecting my talents and abililities. Each design represents hours of work to design, digitize, test, and present. I take great care to ensure to eliminate unnecessary trims, jumps and color changes.
I provide designs in DST, EXP, HUS, JEF, PES, and VIP formats. Other formats are available upon request.