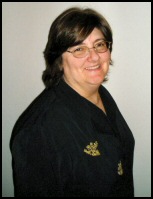 About Threadlove
My name is Bonnie Domeny and I am owner and President of Threadlove.
Threadlove is a business born from my love of working with threads. I began as a quilter, (you can read more about that below) and grew into embroidery.
I do custom digitizing for embroidery. This is a specialty skill I have spent over 15 years learning and perfecting. I take pride in embroidery designs that sew with beautifully on commercial and home machines. I stay away unnecessary jumps, trims and color changes. Your artwork deserves to look great in stitches!
In addition I also digitize and sell stock embroidery designs. Each design represents hours of work to digitize, test, and present. I digitize using Pulse Micro DG/ML digitizing software and convert using that and Buzz Xplore. I provide designs in DST, EXP, HUS, JEF, PES, and VIP formats. Other formats are available on request.
About Bonnie Domeny
I am married to, Jay, a wonderful and funny guy. We have been together for over 30 years. We live in Northern California where we were both born and raised. It's a wonderful place to live and work. Just blocks from my home is the beautiful American River and the surrounding parkway. This is where we take our dogs to run and play.
Speaking of dogs, I am the proud pack leader and companion to 4 dogs of all ages and sizes. I could go on forever about them because they are my best friends so I've given them their own web page.
See the Dogs
I began crafting very early with my grandma. She was into all kinds of interesting crafts. I remember painting ceramics when I was very small. We also did a lot knitting, crochet, bead work, macramé, hand embroidery, and cross stitch. I really enjoyed everything we did and especially spending time with her.
Although grandma sewed, I never really picked up on it… Until I found quilting. My sweet husband thought that if he bought a sewing machine that I might learn to mend or make clothing. That never happened, but I did learn to cut up perfectly good fabric and sew it back together to create neat patterns.
When that first sewing machine died, I went to our local sewing center to purchase a brand new one so I could continue making quilts. After all I already had a fabulous fabric stash I needed to use. While browsing the machines I saw a machine doing embroidery. Bing! That did it, I needed one of those. That day I came home with my new sewing/embroidery machine and of course digitizing software so I could create my own designs.
I started embroidering everything in sight. It got so bad Jay started hiding his underwear! Not everything turned out well. There were so many things to learn, threads, needles, stabilizer, topping…. Aaack! I was overwhelmed for a long time. But I kept at it because I was enamored and fascinated with machine embroidery.
One day I decided to load the software on my computer and make a dragon for my nephew. According to the dealer all I had to do was punch a few buttons and voila a dragon…. Yeah, right! Wrong. I found digitizing is a technical and artistic skill that I would spend many years learning and perfecting.
In order to improve my skills I attend seminars and classes when it fits into my busy schedule. I feel as if there is always something I can learn to do better and/or faster.
In addition to crafting and machine embroidery I'm an avid walker. My goal is to walk at least 3 miles a day. It helps to clear my mind and be grounded.
I'm active in my local community serving on the steering committee of our community organization. I live in a great little neighborhood and enjoy spending time with my neighbors.